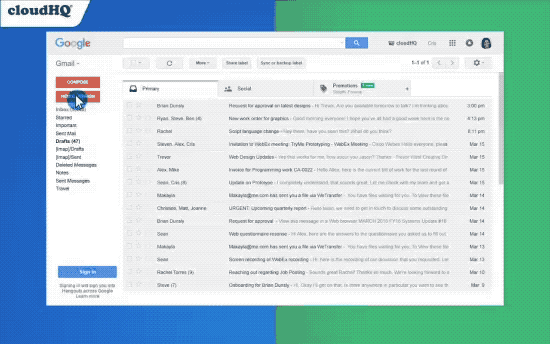 MailKing

Email Campaigns and Mail Merge from Gmail
Follow-up campaigns
Mail merge from CSV or spreadsheets
Track unlimited opens and clicks
Free templates and personalization

Install MailKing
Integrated into Gmail Send campaigns directy from Gmail!

Features
Create email campaigs, track, and measure with easy-to-use tools that live inside your Gmail!
Integreated with Gmail
MailKing is fully integrated with your Gmail. You can create, edit and sent your email campaigns directly from Gmail. Since emails are send directly your Gmail account the response is rate is multiple times higher than when send via email marketing services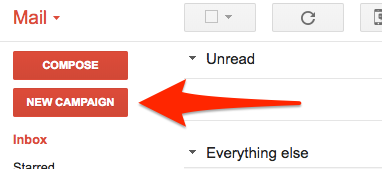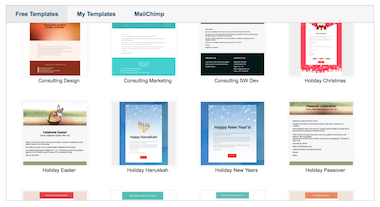 Free Email Templates
A variety of templates are available for you to use for free, or you can create a new template from scratch. The email templates library is FREE and we're adding new templates all the time.
Import MailChimp Templates
MailChimp email templates are awesome. They're easy to use. They're reliable. They keep your branding consistent (logos, fonts, colors). MailKing integrates with MailChimp and you easily use any of your MailChimp templates. Just select the template you want, add your message, and send as you would with any other email.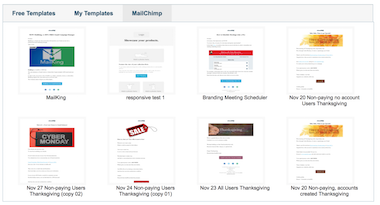 Personalization and Merge Tags
Merge tags allow you to dynamically add content to your email. Drop a merge tag into a campaign, and MailKing take care of the rest. Include something as simple as a subscriber's first name, add social links, or even something more complex as salution in receipients native language
Unlimited email tracking
You have no limits when using our MailKing - whether you're using the premium, or the free version. This way, you'll be able to know exactly when your receipents has read your email, and you'll always be able to take any necessary follow up actions. We spent a lot of time designing a great email tracking experience, and it includes never having to limit you so that you can soar to your fullest potential.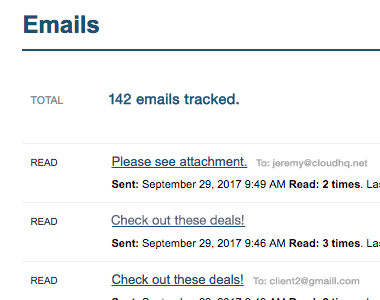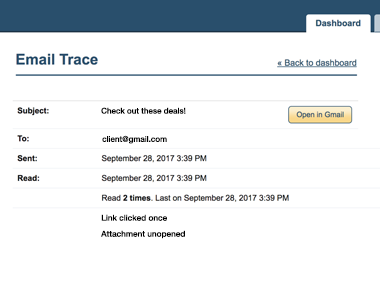 Unlimited link tracking
The unlimited link tracking feature is one of several email analytics tools that we offer for free. This tool allows you to know whether your recipient is interested in what you sent them, when you're email tracking them. You can check when and how many times they opened your link, and be ready to follow up with the best information in hand. If they didn't click on your link, you know they might not be interested in what you're sending them.
Dashboard
Do you need a high level overview dashboard to see whether or not your emails are being opened? This free dashboard functionality keeps a record of all your emails sent with Free Email Tracker. You can check the history of your tracked emails in one, convenient place. Filter all your messages that haven't been opened, and you'll be able to know what actions to take next. Click the "read emails" option, and you'll know which of your contacts are taking you seriously.
Clone Campaigns
Easily duplicate an existing campaigns. You can copy the recepients, templates, or both. Perfect solution for sending slightly different emails to different mailing lists.
Follow-up Campaigns
Easily send follow up email campaigns to those who replied, opened, clicked, or received, or didn't reply, open, click, or receive, or any combination thereof.
Email List Builder
Extract email addresses just by searching for past conversations in your Gmail. For example, you can search for all users
Bcc to your Salesforce, Zoho, or any other CRM
Bcc your emails to your Salesforce, Zoho, etc. If your CRM provides a BCC email address or unique dropbox address,MailKing will automatically send a copy of your emails into your CRM.
Reminders
With reminders, you can receive a notification if your email goes unopened for 48 hours. This gives you a heads up that the email you're using didn't reach your intended recipient. It could be that the recipient is busy, is away, or worse, is ignoring your emails. Whatever the case, an email notification will alert you that your message has NOT been read. This knowledge lets you take the next appropriate steps because your current email recipient may not be your best point of contact.
Unsubscribe Link
Provide an optional unsubscribe link at the bottom of your emails. If a recipient clicks the link, their email address will be placed on your MailKing account's Supression List.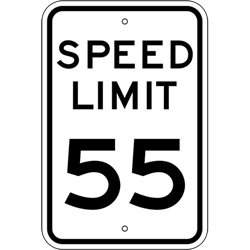 Break Gmail's Sending Limits
Send email campaigns to greater than 500 (or 2,000 for G Suite users) people at a time, using our distribution technology. Send campaigns to up to 10,000 recipients, and GMass will auto-send them over multiple days so you don't violate Gmail's limits
Premium Version Available
We designed this tool with as few limitations as possible - including price limitations. Because of that, MailKing is 100% free to use for anyone using Gmail. By default, we'll include a link at the bottom of all tracked emails that lets people know you're using our tracker. If you prefer to remove the notification, you can simply delete the link manually before sending your email. Or for just $9.99/mo, you can upgrade to the premium version of the tool, and we'll remove the link for you by default.
Install MailKing
---
Who Should Use MailKing?
Sales
The likelihood that someone will trust you enough to buy from you the first time they "meet" you or your company online is very low. Create a campaign to your prospect ensuring that your prospects are informed about offering you have. As people are exposed to a message again and again, it becomes more familiar. Because of the way our minds work, what is familiar is also true. More emails creates more opportunities to engage with interested buyers, which leads to more closed deals.

Support
Send campaings to your customers about certain feature improvement, bug fixes or deprication.
Marketing
Send emil campaigns to persuade customers to engage with the company. Email campaigns are the most important part of inbound marketing. MailKing will allow you to send modern emails that warrant your recipients' precious time and attention.

Recruiters and Head Hunters
Send email campaigns to your list of candidates. Nurture their interest and keep them informed about new oportunities.
Project Managers
Send simple and short email campaigns to everybody involved - about new feature, maybe breaking changes, etc.
Human Resources
Send simple and short email campaigns to everybody in your company. Send updates about 401k, benefits, etc.
PTA, Churches, etc
Send simple and short email campaigns updating member of your organization about events, montly newletters, or maybe about fundraising.
Install MailKing